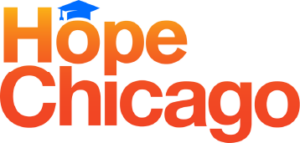 Earn 6 college course credits at no cost to you!
Hope Chicago has partnered with WGU Academy as an on-ramp to college success. 
If you've been out of school for a while or feel like you could use a refresher on college, WGU Academy could be a good option for you.
WGU Academy is a 2-3 month college readiness program that will help you feel more confident in your ability to succeed at WGU.
Upon completing two courses at WGU Academy, you'll have earned six transferable credits and guaranteed admission to WGU. 
·      Earn 6 college course credits in 2-3 months.
·      Guaranteed admission into WGU.
·      Personalized one-to-one coaching and support.
·      100% online, self-paced learning.
·      Enroll today and begin your coursework today. 
Fill out the form, and one of our enrollment counselors with get in touch with you to answer any questions and help you enroll. 
For more information and to get started, call 385-262-4561 and mention Hope Chicago to your enrollment counselor.
Your tuition is covered 100%!